Todd Jagger Photo Gallery
El Camino Real
---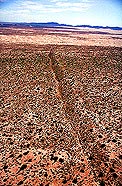 Aerial View of Camino Real Road Trace entering Medanos de Samalayuca, Chihuahua, Mexico

---
Jim Bones and myself were commissioned to photograph the landscape along the Chihuahua Trail portion of El Camino Real, the early route of exploration and, later, commerce between Mexico and New Mexico, in September of 1993. I did the work in Mexico and Jim worked in the US. For my part the photography had to be completed in whirlwind fashion due to a complete change in the established contacts with the Chihuahua State government - the PRI was out and the PAN was in. Jim had to contend with torrential rains and difficult travel conditions in remote areas. All in all, it was an experience for both of us that will remain with us forever.
Don Juan de Oñate first traveled this route in 1598 on orders from King Philip of Spain to discover a route to Nuevo Espana that earlier explorers, like Coronado, had only glimpsed. His caravan consisted of about 175 soldiers and their families (exact numbers are not known as many hid until the King's auditors left as they were considered criminals) and over 5000 head of cattle and sheep. They traveled very slowly, usually only a few miles a day. Frequently they camped for weeks at a time while scouts were sent to find dependable water sources along the way, sometimes enlisting the forced aid of Indians. Often these scouting parties never came back.
Along the way were many difficult areas to negotiate including "jornadas" or forced marches through areas of no dependable water, such as the Jornada de Jesus y Maria in northern Mexico and the famous Jornada del Muerto ("Dead Man's March") in southern New Mexico, the latter being a devastating 90 mile stretch. As difficult as the jornadas were for the travelers, perhaps the most dreaded areas were Los Medanos de Samalayuca, a vast region of loose, shifting sand dunes (the largest in North America), and the area of La Bajada, between present-day Albuquerque and Santa Fe, New Mexico, where the terrain rises almost 2000 feet in a short distance.
Don Juan de Onate established the first permanent settlements in New Mexico, San Juan and San Pedro, and a few years later founded and laid the city plan for Santa Fe. These settlements were abandoned in the 1700's during an uprising of all the native inhabitants of the region and were not resettled until many years later.
Today, railroads, highways and powerlines parallel the Camino Real. One interesting aspect of our travels was the fact that in Mexico we had to fly in a small plane to determine the actual route of the Camino Real, yet most Mexicans are aware of it's history and importance to their culture; while in the US it has been well-studied and documented but most Americans have no idea what the Camino Real is.

---
We would not have done the work if it were simply to promote what was actually a dark time for the indigenous peoples of North America and the de facto destruction of a vibrant culture. We did this to illustrate the connections between the peoples of Mexico and the US and the common bond we all share with the land. We hope that these photographs can help people realize that we are all travelers on this earth and our journeys of understanding each other are just as formidable as those physical journeys that faced the travelers along El Camino Real.

---
For the images in the Camino Real Limited Edition Photograhic Portfolio, please see the El Camino Real Portfolio page. These photos are some of the other pictures I made along the Camino Real. Click on the links for slightly larger images and extended captions for each image. (Yes, as I've said before, this site is rather pitiful - more of an artifact nowadays. I'll see about making this look better. Someday. -todd)

---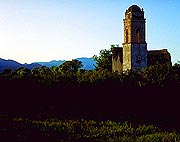 Ruined Franciscan Mission at Las Encinillas, El Camino Real, Chihuahua, Mexico

---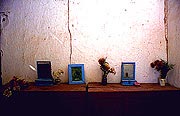 Inside the old Iglesia at Ojo Caliente, El Camino Real, Chihuahua, Mexico.

---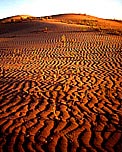 Sunset, Medanos de Samalayuca, El Camino Real, Chihuahua, Mexico

---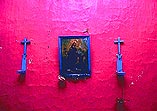 Inside the old Iglesia at Ojo Caliente #2, El Camino Real, Chihuahua, Mexico

---
All Text and Photographs © 1993, Todd Jagger

Check out the El Camino Real Limited Edition Photographic Portfolio Page
Return to Todd Jagger Home Page
---