Todd Jagger Photo Gallery -El Camino Real
"Inside the old Iglesia, Ojo Caliente, Chihuahua, Mexico"
---
I will relate this story because it made a deep impression on me, and contains a lesson that I hope will remain with me for my lifetime.
The maps showed the approximate location of the spring at Ojo Caliente, a major water source for early travelers along El Camino Real. However because of agricultural development we were unable to find it. We drove around for hours looking for an access point to the general direction we needed to go. From about a half-mile away we could see a man working in the yard of a small ranchito - "Rancho Santa Rosalia" - and, although there was a "se prohiba la entrada" (do not enter) sign on the gate, we decided to risk a chewing out and ask the man if he knew how to get to the hot springs. We drove into the yard and the man put down his tools and approached the truck. Enrique, our driver furnished by the State of Chihuahua, greeted him. The man addressed Enrique as "licensado", a term of respect, and asked us to come inside out of the sun. He took us into his house, bade us to sit down on the couch, went to the kitchen and brought us all Coca-Colas and introduced us to his wife, a lovely woman with bright eyes and warm smile. He then sat down in his chair, introduced himself as "our servant", and only then did he ask us our business with the simple words, "Now, gentlemen, how may I be of service to you?"
To me this is the epitome of graciousness and a character not often experienced. I wish Sr. Motta and his wife the best, and hope that I can show some of the same courtesy to my fellow travelers on this earth.

---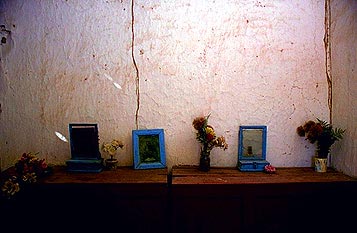 ---
Text & Photograph © 1993, Todd Jagger
Go Back